Just for a second, picture what it means to have three sons sharing a bathroom.
Yeahhh.
That.
When we moved into this house, it was this cute thing to have a "boy's bathroom". Back then, it was my husband's room to store his things in, and where he'd shave. Lukas would brush his teeth and take his baths there, too. We kept our fun little bath toys in a basket on the floor, where they'd patiently wait for their next use. The whole room was as comfortable to use as our other, "for everyone" bathroom. Fast forward five years, and two rounds of potty training later with an impending third means it's basically Armageddon in there. The boys pretty much run the show, and I'm not June Cleaver enough to be in there daily with my rubber gloves and bleach.
So, for a while now, that room has been my home's eye sore. It's cute enough, with its powder blue walls and little white cabinet. But because we generally stay out of there and close it off to visitors, we haven't taken a lot of care to make it anything special.
I'm trying to love my whole home (in an attempt to counter act the frustration I always feel with it), so I tried to think of some ways to make it a little more welcoming, friendly, and happy. I don't have a big budget for this sort of thing, so I had to think frugally!
Here are 5 Simple, Inexpensive Ways to Update a Bathroom:
1. Shop your house.
Look for unused picture frames (I have a whole shelf of them in my basement), and other little pieces you can use as decor. You'll see in the photos below that I added a nightlight to the otherwise unused built-in soap tray - it's a light-up Minecraft light that the boys LOVE, but don't have a home for. Now it ties in perfectly, and they love it! When Luke saw that I used it in his bathroom, he was SO excited!
2. Pictures and wall art.
Before this update, I framed two sheets of scrapbook paper that matched our linens and hung them on the wall. That is a perfect option (I've done that many times in past rooms!), but you can also have your kids make paintings, put up actual photos of them, or shop around from some great prints!
I wandered over to Etsy, to find something adorable, and found myself checking out prints at an old favorite shop (
Willowbee Expressions
). I loved so many different options (
this one
stood out to me, hello delicious color!), but a specific set
really
jumped out at me.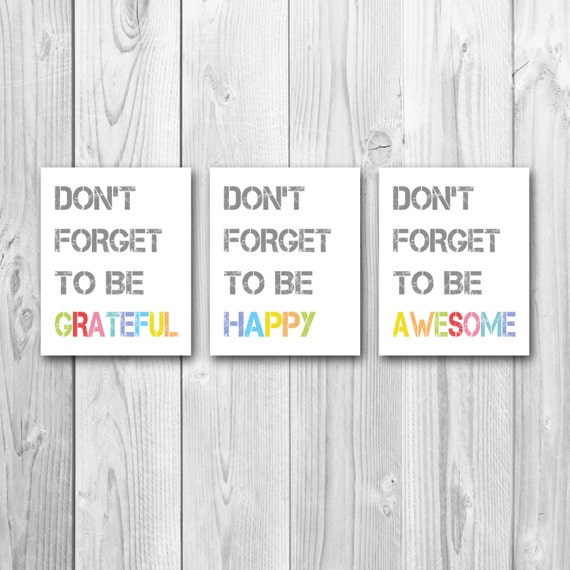 'Don't Forget' art print bundle, $10 at Willowbee Exrpressions
I wanted my chosen artwork to display a good message for my kids, and this set showcased perfect reminders of things we're always talking about with our kids. I love the idea of them all being surrounded by positive words - good reminders of how to approach each of their days.
Grateful, Happy, Awesome.
Allie at Willowbee is wonderful and accommodating (and has 2 boys of her own with possibly a 3rd on the way, so she gets it!). She re-colored these beautiful prints for me so that they would fit into our blue bathroom. Since this is the boys' bathroom, and I want it to be
theirs
, I knew that the blues would have more staying power over the years. Allie emailed the files to me when she was finished editing them, and I printed them onto some bright white cardstock from my scrapbooking supplies. It was super simple to do, and you can do the same with prints for your nursery (like this
color-detail Alphabet print
, or these
personalized monogram Playroom prints
).
PS
, Willowbee also has
printables for Valentine's Day
treats, too - so easy and
adorable
!
All it took were a few 8x10 frames, a few nails (and my
secret photo hanging technique
), and we had an adorable, inspiring addition to the room!
3. Search a dollar store for Storage Solutions.
We really needed a better storage option to store the kids' toothbrushes, but because they have the children's kind, they typically don't fit in traditionally designed toothbrush holders. I found two different options, for, yep...$1. One is a desk pen organizer, and the other is actually a parmesan cheese shaker that I took the lid off of! I took a poll, and everyone liked the cheese shaker ;) They also have lots of drawer organizers and baskets you can use depending on your specific needs. I got a bunch of drawer sorters for my other bathroom.
4. Ditch the Shower Curtain.
If your kids are as little as mine and only take baths, there's really no need for the shower curtain. We used to have one that matched the room perfectly, but it was always just pushed to the side to make room for the boys to be in the tub and the two of us to scrub them down. Eventually, they started picking at the plastic and shredding it up, and we finally said - forget this thing! And it's one less thing we have to clean!
5. Stick with a color scheme.
Using a set color pallet to decorate has more staying power than decorating with characters, animals, or other little-kid themes. We used shades of blue, white, and grey. The tile in the room is neutral, and both warms up the colors and matches almost everything, so we lucked out there. But the same idea can be applied to any bathroom!
Here's what these tips look like in action in our bathroom!


The boys & I got messy last week and made this handprint art with each of the boys' right hands.
We used paint colors that coordinated with our Willowbee prints, and I LOVE how it turned out!




On the other side of the sink is our laundry chute, and putting the laundry there is a chore the boys have to do every day. I made this little sign with Word and recolored the letters to fit our color scheme. I knew they'd get a kick out of seeing it everyday ;) I thought about making another one to go above it that says "handsome boy" and having the arrow point to the mirror. Too corny? :P


If someone were to spring a surprise black light inspection on this room, it may or may not still look like a crime scene under such detailed scrutiny. But I really love the way we've worked to honor this room for all its hard work with our sweet boys.
I
love
the addition of our
Willowbee
prints and the positivity they bring to the room
so
much! I would
really, really
love for you to find a print that speaks to your heart so you can display it somewhere in your home! So today, Allie & I are sharing a $20 credit to her shop with you! YAY!
Here's how to enter:
a Rafflecopter giveaway
Good luck! :)
Allie at Willowbee provided me with the prints pictured above in exchange for my review. All opinions stated are my own, and I lovingly welcomed her artwork into our home. xo
-------------------------------------
This post is part of a long-neglected series I was trying to keep up with for the month of October 2014 - visit the first post for details & links to all the other posts! And please forgive my extreme, extreme lateness! ;)