This afternoon, I fantasized about clearing the driveway.
Really
- I pictured myself pushing the shovel into the snow (which we have almost 2 feet of), tossing it aside, and feeling pride in my work. It's all of 2 degrees out, and I
want
to do it!
Because you guys - to do a chore from start to finish is starting to feel like a radical dream.
Jake is 3-1/2 months old, and progress with him is still nearly impossible. It's mostly by design, because I subscribe to attachment parenting ideals. Let me preface this by saying,
just because I do doesn't mean you should
, because I know a lot of thoughts will go there. But here's what that means for us. Jake is exclusively breastfed (and he's a piggy, and eats 12-14 times a day - even now that he has longer sleep periods at night). We co-sleep overnight night and for almost every nap, and he is worn for much of our day (about 90% of our time spent in public, maybe 50% of our time at home - most of that remaining time is spent holding him for naps, or he plays in his exersaucer). So as you can probably glean, he is about as physically connected to me as a baby can be. And clearly, this does not leave time for much of anything.
My husband is a wonderful helper - he has been doing dishes and laundry everyday, faithfully, since Jake was born. He steps in wherever he can, and wherever I need him. But once in a while I envy his freedom. I sometimes find myself wondering, "Can you imagine just choosing a project and actually getting to do it right then and there?!" and "Can you imagine the indulgence it must be to decide you'd like to take a shower and not have to clear it with anyone?" Because yes, I even have to ask my husband to fit my showers into his schedule so someone can tend to Jake. He is a fussy, fussy baby, and despite being past the age of typical colic he still acts like a colicky baby. We haven't determined if its reflux, gas, teething, or just extended colic, but he's as healthy as can be so we're all just waiting for him to outgrow it. It's been a long (loooong) 3-1/2 months of waiting to get my life back. And while the baby and I have started venturing outside of the house again, the affairs
inside
the house are still in disarray. I just can't keep up! At least once a day I silently wish for a cleaning lady - someone who would actually have enough time to dedicate to scrubbing a whole room down. Can you imagine that kind of freedom?! Right now, it's a hazy idea for me.
What's a girl gotta do to be able to load the dishwasher?!
Here's a tip.
If you're ever looking for a way to get motivated to do housework, spend the better part of three months just sitting there. That'll do it!
When I find myself feeling helpless about chores, I recite this poem while I snuggle my baby: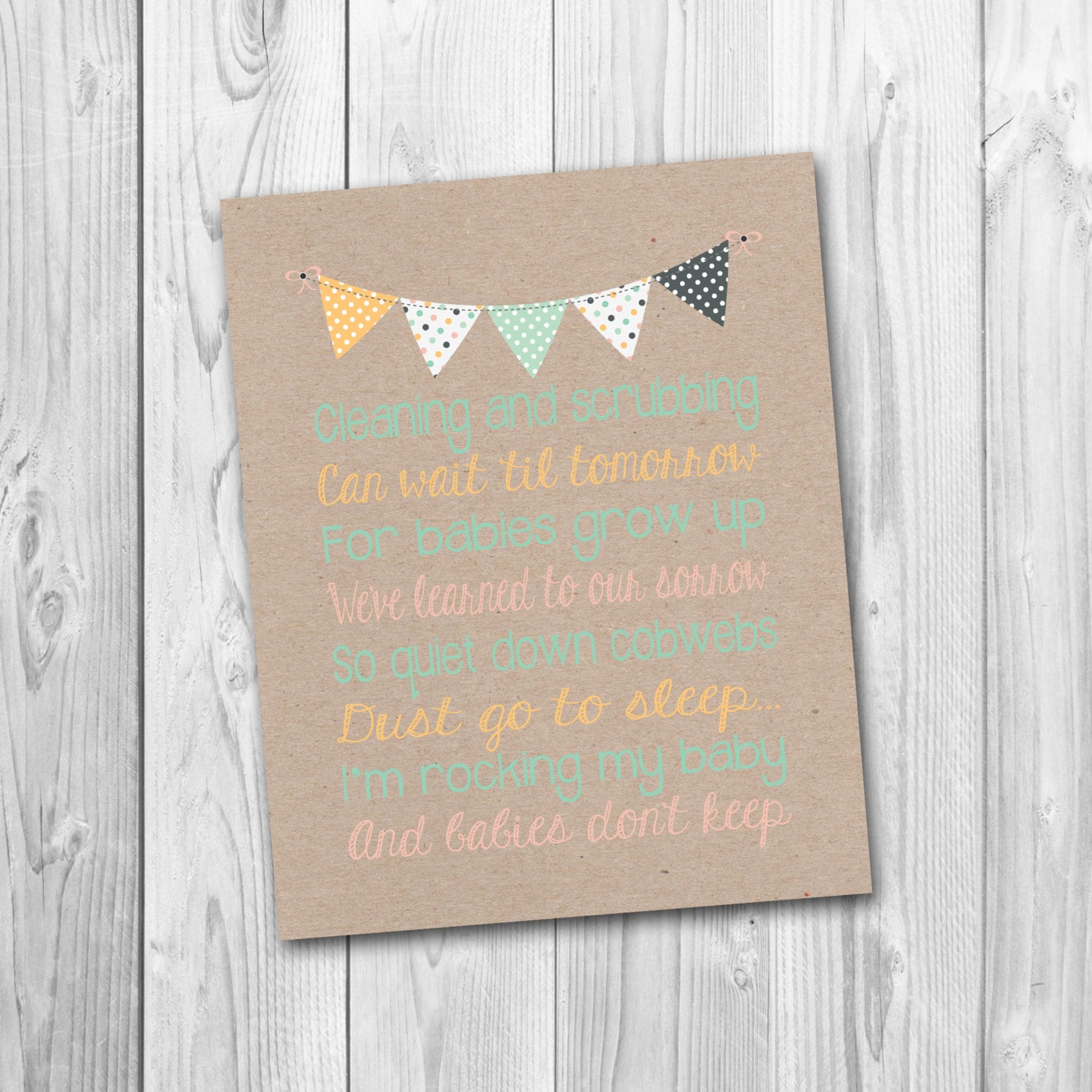 Poem Printable by Willow Bee Expressions on Etsy, $5
This, too, shall pass - right?
Get this or any other print from Willow Bee Expressions at 25% off with code DAINTY25! Which one would you choose?